I've had a love-hate relationship with red lipstick since I can remember. As a kid, I always associated it with a look of scowly disinterested detachment. The wearers always seemed cold, a bit garish and higher-than-thou, which I blame entirely on Robert Palmer.
Seriously though, I think my anti-red lipstick mindset came from my youthful affection for all things lightly hued. I grew up with a makeup drawer filled to the brim with Clinique glosses and Bonne Bell balms. In high school, a friend of mine started wearing The Body Shop's Rutabaga and, desiring her effortless glamour, I hopped on board as well.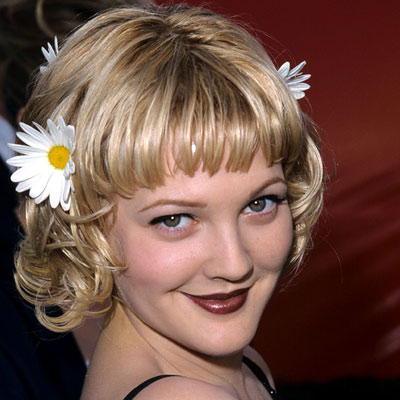 Drew Barrymore, 1998. Is that Rutabaga?!
The berry-stained hue was all over the red carpet in the late 1990's, so I felt really refined and adult wearing it, though when paired with Coty face powder, I looked downright spectral. Sadly, despite my attempts to rock Rutabaga, I couldn't, so eventually I let the pretty silver tube roll to the back of my drawer to the land of lost cosmetic products. Then finally, when I graduated from college and moved away from Pennsylvania, it made its final journey to the trash.
These days I can't get enough of red lipstick. I don't wear makeup every day, but when I do, it's always in my arsenal. Nars' Velvet Matte Lip pencil in Cruella has been my go-to for a year or so, but now I'm all over Chanel's Rouge Allure Laque in Coromandel! I spotted it on a beauty blog last week and it was love at first sight. It's a little orangey, so it's the ideal choice for summer!
Chanel Rouge Allure Laque in
Coromandel (72)
, Chanel Le Crayon Lévres in
Carmin (14)
So, Chanel? Je t'aime!
You're a reminder that red is always in style, fun, flirtatious and totally attainable. No slicked-back hair and bad faux guitar playing required.